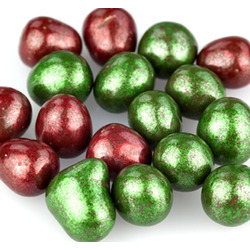 First things, first. We're closing early at 4:30 on Wednesday for Thanksgiving. See below for a cute last minute center piece/name tag idea.
And now for More Important Things:
– Don't miss our Black Friday Specials & our Christmas Open House (details below).
The stockings aren't hung (yet) but the Christmas candy is here. There is a TON of choices. You can preview some here below. But believe it or not, it's going fast. So don't wait.
Fabulous Favorites for Black Friday + 2 New Tasty Deals
Gummi Bears, 12 Flavor – 50¢ off/container 
(normally $2.00 – Friday only $1)
Cappuccino, Creamy Caramel or French Vanilla (reg. only) – $1 off/bag
(normally $3 – Friday only $2)
Pizza Cheese – normally – $4.29 – Friday only – $2.99
Brown Sugar Ham – normally – $5.49 – Friday only – $3.99
While Supplies Last
Delicious Deli Deals
This sale runs for two weeks – until December 5th.
Honey Roasted Turkey – normally $6.59 – now $5.69   
Mozzarella – normally $5.39 – now $4.39
Muenster Jalapeno – normally $5.39 – now $4.39
Christmas Open House – Saturday Dec. 2nd
Enjoy live music and tastes of the Christmas season.
Here's what's happening:
*Enter to Win A Christmas Gift Basket ($25 value)
*Order your Meat & Cheese Tray (you name the pick up date) and wave the assembly fee
*Purchase Christmas Cookies (watch for the preview next week)
*Buy or Order Christmas Gift Baskets
*See all Christmas Candy and items
Sale:
*Deli Items
Virginia Ham – $3.59
Hard Salami – $3.29 – 50% off
Tavern Smoked Turkey – $4.99
Green Onion – $2.99 – 50% off
Marble – $3.39
Pepper Jack – $3.99
*Honey Butter – $2.99 (50¢ off)
*Sesame Sticks – $2.50 – $3.50 (50¢ off)
*Snack Mixes – buy one, get one 50% off
*Yogurt Covered Pretzels (all flavors) – buy one, get one 50% off
Edible Thanksgiving Turkey Place Card or Centerpiece
I couldn't resist these cute little guys. Check Walmart for the candy eye balls or just use frosting with little pieces of raisin or cherries.
You can substitute raisins for cherries, carrots for apricots and white cheese cubes for pineapple if you'd like.
-pears, one pear per turkey, preferably with flatter bottoms so the turkey will sit upright
-dried pineapple, cut into smaller pieces*
-dried apricots, cut into smaller pieces*
-dried cherries*
-toothpicks
-a few baby carrots
-candy eye balls
-edible craft glue or frosting, to attach the eye balls
Cut the dried pineapple and apricots into smaller pieces, about the same size as the cherries. Assemble a whole bunch of 'turkey feathers' by arranging the dried fruit onto toothpicks. You'll use about 11-13 feather toothpicks per turkey.
Stick the toothpicks into the pear, putting them relatively close to each other.
Use a baby carrot to cut 2 wings and a triangle beak. Attach those elements with small broken toothpicks.
Add the candy eye balls with edible craft glue or a small amount of frosting.
Add a name card – You can attach it to a toothpick and stuck it under the turkey's wing. Place on the table near each plate or add to the table as a centerpiece. Add little carrot feet if you want. Make a cute sign that says "Gobble me up!" or "A little pre-turkey snack!"