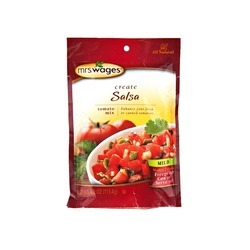 Do you have a plethora of tomatoes this year? All the local garden reports I've heard say the tomato plants are loaded!
What will you do with your tomatoes? So many choices with Mrs. Wages Mixes – Pasta Sauce, Pizza Sauce, Mild, Medium or Hot Salsa, Chili Base, and Ketchup.
Don't want to make your own? Grab a jar of Black Bean and Corn Salsa, Mild or Hot Salsa or Peach Salsa off of our shelf.
Oh, you'd rather make your own Peach Salsa? After all, those Michigan Peaches are arriving this Saturday. Check out the recipe below.
Bi-Weekly Deli Specials
This sale runs for two weeks – until August 29th.
Virginia Ham – normally $5.69 – now $4.69
Lightning Jack – normally $5.59 – now $4.49
Farmers Cheese – normally $5.39 – now $4.39
Peach Salsa with Cilantro and Lime
Serves 6.
4 fresh peaches – peeled, pitted, and diced
1/4 red onion, finely chopped
1 tablespoon chopped fresh cilantro
1 lime, juiced
1 teaspoon white sugar
Mix peaches, onion, and cilantro together in a large bowl; drizzle with lime juice. Sprinkle salsa with sugar; toss to coat. Refrigerate for 30 minutes before serving.