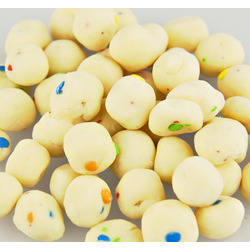 Hungry for a snack? Here's the deal. Leave a comment below about your favorite snack mix by May 10th. It can be either one you've created or one you buy here. If you share yours, you will be entered to win a free snack.
Don't Forget
– stop in and see the display of all the new items including the CupCake Bites (pictured here)
– join us for the Tea Party – Fri & Sat – details below
Join Us for a "Tea Party" May 5 & 6
This is for everyone who likes tea, not just the ladies. (Although this is a great Mother's Day outing option.) From hot herbal, to iced, sweet and between.
Sample our:
– New iced teas (mint & sugar-free)
– New herbal Tulsi teas (great for stress management)
– New herbal Teecino tea that tastes like hazelnut coffee without the caffeine
Save $1 off a box or 50¢ off a bag of new tea.
Also, sample our new Fruit Butters (Peach and Blueberry) and Nut Thin crackers.
Gobble Up These Deli Specials
Colby – normally $5.39 – now $4.39
Pan Roasted Turkey – normally $7.19 – now $6.19
"Dorito"- Flavored Popcorn (dairy free)
Makes 6-8 cups
½ cup unpopped popcorn kernels
*All ingredients available at The Country Cupboard
Prepare popcorn using oil with preferred method.
Combine all spices, and salt in a small bowl.
Blend seasonings in a spice or coffee grinder, or blend in blender to make a fine powder.
Sprinkle seasoning over popcorn and toss to coat.
A Peek in the Pantry
Classes at The Country Cupboard
Digest good information and good food. You must preregister. Stop in, email or call to sign up. Space is limited.
*Using Essential Oils for Natural Solutions (Basic Class)
A fun, free class to learn what oils are, how they work and experience them for yourself. You must register in advance for this class.
Thursday, May 18th 6:30 – 8 pm