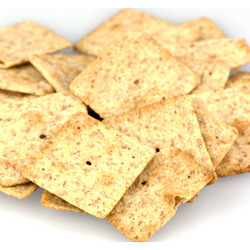 Last week we talked about Green; this week the topic is Yellow. Yes, colorful conversations from
The Country Cupboard
!
So why Yellow? I don't know about you, but for me sunshine, daffodils, canaries and cheese remind me of spring, hope, and happiness. We've seen a lot of sunshine lately; we're looking forward to daffodils. And canaries? Well, check out the Singing Canary variation recipe below. I was a bit skeptical, but I found it delicious and energizing.
Here's the cheesy part: don't miss Cheese Tasting Day – Saturday March 18th. Details below.
Back in Stock – Thin Wheat Crackers and Sweet Potato Tortilla Chips.
Say Cheese! Sat 3/18
Join us for our Cheese Tasting Day. It's time again to sample 25+ cheeses. Vote for your favorite cheese and win a free pound!
Buy 3 pounds of cheese, get a coupon for 1 pound free on your next visit.
Get our Meal Deal Lunch (sandwich, snack, cookies and water) for only $5.
Saturday Only Specials
Up to 40% off on these deli specials:
Smoked Pork Loin – $4.29
Ham Off the Bone – $3.99
Kettle Fried Chicken – $4.79
Provolone – $3.59
Smoked Cheddar – $4.29
Bruschetta Jack – $2.99 – this new cheese is amazing!
Other Specials:
Buy a Soup Mix, get a bag of Crackers – FREE
Choose from:
Cheeseburger
Bacon Flavored Split Pea
Chipotle
Cheesy Bacon Potato
Creamy Broccoli
Creamy Chicken Noodle
French Onion
Chili
Tomato
Bean/lentil/rice/split pea blends: Harvest, Hearty, Holiday, 13 Bean
Save 25% off all Savory Dip Mixes
Choose from:
Coleslaw
Alpine Spinach
Amish Macaroni
Southwestern
Bacon Horseradish
Vegetable Dip
Perfect Hot Pepper
Tomato & Basil
French Onion Dip
Bacon & Onion
Italian Dressing
Garlic & Herb
Dill Cucumber
Ranch Dip
Cheddar Ranch Dip
It's a fun way to make a fun day. Bring your friends!
Deli Specials
Honey Ham – normally $5.69 – now $4.69
Colby – normally $5.39 – now $4.39
Adrenal Fatigue Tonic – A Singing Canary Variation
1 quart, 5 minutes
When we are stressed, we wear out our adrenals. Therefore, we often feel exhausted, but can't sleep. This is yummy powerful drink to help your body support its adrenals and give you some energy. It's easy and delicious. You can read all the benefits here.
– 1-2 lemons, peeled
½ tsp vanilla extract*
– 2 generous pinches salt*
– ½ tsp cinnamon*
-1/4 tsp ginger*
-1/4 tsp nutmeg*
-pinch clove*
– 2,000 mg vitamin C powder*
– Ice cubes
*Ingredients available at The Country Cupboard.
Peel the rind off the lemons using a sharp knife. Leave as much of the white pith as possible as it has loads of nutritional benefits. If using organic lemons, use the whole lemon.
Slice each lemon into quarters. Remove the seeds, and place the lemon pieces into your blender. Add water and all of the remaining ingredients besides the ice cubes. Blend well.
Place the blended mixture into a quart jar. Add ice cubes and more water to fill the jar to the top. Put a tight lid on the jar and shake before drinking.
Tip: You might find that the drink is still a little too "bitter" due to the turmeric. Start with ½ tsp of turmeric and increase from there if desired. After making the drink, if you find it to be too bitter, you can add more stevia and/or vanilla to taste.
A Peek in the Pantry
Classes at The Country Cupboard
Digest good information and good food. You must preregister. Stop in, email or call to sign up. Space is limited.
* Green Cleaning Using Essential Oils
– Make 'n Take – $5/person
Showers, tubs, toilets, sinks, microwaves, stoves, furniture, windows, fruits 'n veggies…Cut the chemicals, there's an oil to help with whatever you want to clean or sanitize. Learn how to make a simple multi-purpose cleaning spray, plus take home some tub or toilet cleaner you make for yourself.
Thursday, March 16th 6:30-7:30 pm
*Using Oils Daily (doTERRA users only)
A free intermediate class on incorporating essential oils into everyday life for health, and wellness. Learn more tips on using a diffuser and diluting oils.
Thursday, March 30th 6:30 – 7:30 pm
*Using Essential Oils for Natural Solutions
(Basic Class)
A fun, free class to learn what oils are, how they work and experience them for yourself. You must register in advance for this class.
Tuesday, April 4th 6:30-8pm