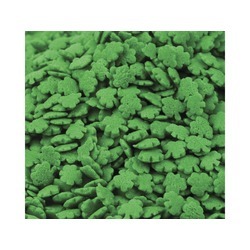 All the warm weather gave us a little hint at Spring and Green and New, didn't it? Well, we have our own little New (and renew) going on here. I can hint at it, but the secret won't be revealed for a little while. Hopefully as the Spring flowers open, our secret will be in full bloom too.
Here's your hint (as promised), we're getting a new look.
And for the Green, we're gearing up for St. Patrick's Day. With that comes green little shamrock sprinkles and Corned Beef. Try the recipe below or check out this link for some Reuben Soup. And if nothing else, stock up on Corned Beef – it's on sale this week and freezes well.
Deli Specials
Corned Beef – normally $8.49 – now $6.99
Swiss Cut – normally $6.99 – now $4.99
Reuben Quiche
50 minutes, 4 Servings
I love quiche and I love reubens. Here's a great, quick combo. Perfect timing too – it's corned beef season!

2 cups rye bread crumbs*
1/4 cup swiss, finely grated*
3 tablespoons butter, melted*
1 1/2 cup corned beef, cut into small pieces or shredded*
1/2 cup sauerkraut, well squeezed dry
1 cup swiss, shredded*
4 eggs*
1 cup half and half
2 tablespoon russian or thousand islands dressing + more for serving
*Ingredients available at The Country Cupboard.
Mix the rye bread crumbs, swiss and butter, press into the bottom of a pie plate, about 1/8 inch thick and bake in a preheated 450F oven until the edges and bottom just start turning golden brown, about 5-7 minutes.
Mix the corned beef, sauerkraut, swiss, eggs, half and half and dressing and pour into crust and bake in a preheated 375F oven until golden brown on top and set in the center, about 25-35 minutes.
Tip: Toast 5 slices of rye bread and then give them a quick whirl in a food processor to make the rye bread crumbs.
A Peek in the Pantry
Classes at The Country Cupboard
Digest good information and good food. You must preregister. Stop in, email or call to sign up. Space is limited.
*Using Essential Oils for Natural Solutions
(Basic Class)
A fun, free class to learn what oils are, how they work and experience them for yourself. You must register in advance for this class.
Monday, March 6th  6:30-8pm