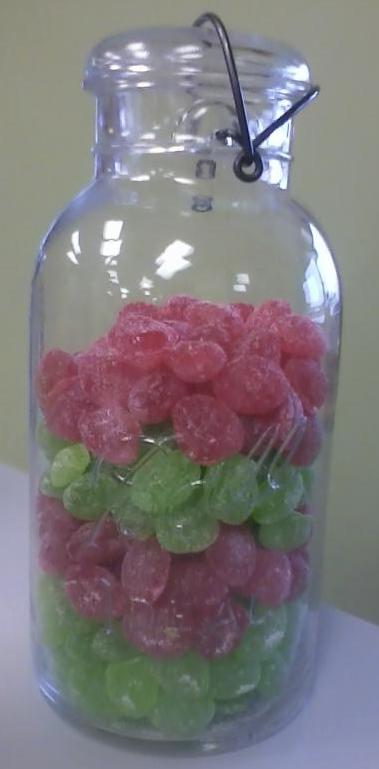 What a delightful idea for Christmas from one of our shoppers (pictured right). You supply the jar (unfortunately we don't have any vintage ones) and choose the candy. For red, there's cinnamon, cherry, raspberry, and anise, and green – well, there's the only option of green apple.
Dreaming of a sweet Christmas (without the work)? There's still some homemade Christmas cookies available. Get an assorted tray with just the time and effort it takes to make a trip to The Country Cupboard.
Now that it's more than cold – it's okay to have more than a cup (or two or three) of coffee in one day. Plain, flavored, decaf, regular, ground or whole bean – you've got a great selection here. And it's perfect for stockings. (Well, almost perfect, they might be able to smell what's in there – but that's okay, right?)
Beyond Food:  Gift Idea #4 – Essential Oils & Supplies
Oils: There's an oil for every challenge you have – sore muscles, sleeplessness, stuffy nose, anxious feelings, sadness, energy, etc. Stop by and ask, or check out the book to find out which oil to use.
Supplies: these are great for stocking stuffers. Roller bottles, dropper bottles, glass spritzers, glass jars, etc. in several different sizes.
Want to know more? Purchase a book or see the schedule of classes below.
30 minutes + 4hrs to cool
Super easy and tasty too!

1½ cups powdered sugar*
1½ cups light brown sugar*
2 tablespoons butter + a little more to grease the pan*
1 cup milk
1½ cups creamy peanut butter**
1 tsp vanilla*
*Ingredients available at The Country Cupboard
*If fudge is too sweet for you, try our no sugar peanut butter to cut down on the sugar.

Lightly grease a 9″ x 9″ glass pan with butter.
Combine powdered sugar, brown sugar, butter and milk in a saucepan and stir over a low heat until the sugars have dissolved.
Bring to a boil over medium heat, then slowly boil for 5 minutes stirring constantly.
Remove the saucepan from heat. Add peanut butter and vanilla. Stir until blended.
Pour the Peanut Butter Fudge into the glass pan. Let cool. Once the Peanut Butter Fudge pan has reached room temperature, you can move it to a refrigerator to finish cooling.
Allow the Peanut Butter Fudge to cool for at least four hours. Enjoy!