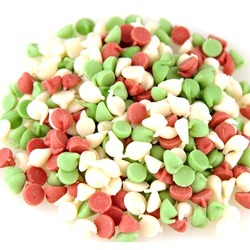 This past week I looked at the calendar and said "it's two weeks until Thanksgiving"! Then it sunk in – IT'S TWO WEEKS UNTIL THANKSGIVING! Now it's past that and hopefully it's stuck in your mind and mine. If you are like me, you have a lot to do in the next few weeks. It's evident most of you know that too as we're seeing holiday shopping. Stop in and join the fun!
Reminder – our BIG Christmas Open House will be Saturday, Dec 3rd.
There's the old poem "the stockings were hung by the chimney with care." We don't have stockings, but we're all ready for Christmas baking with Christmas colored chips, raw peanuts, flour, sugar, nuts, and colored sugar and sprinkles.
Joining the holiday shoppers, all the regular items and us are three new items this week. Pastel colored melt-in-your-mouth Party Mints, Dried Tomatoes (perfect for soup or jar mixes), and Dried Pineapple (low sugar and no sulfates).

$1-2-3 Off 4 Black Friday
Mini Animal Crackers – $1 off/bag
(normally $2.00 – Friday only $1)
Lucky Charm Marshmallows – $2 off/bag(normally $2.75 – Friday only $75¢)
Dark Choc Almonds – $3 off/bag
(normally $9 – Friday only $6)
8 am – while supplies last
*all prices approximate due to weight variances
Condensed "Cream" of Mushroom Soup
If you are looking for a healthier option or for those with allergies. This is perfect for the Traditional Thanksgiving Green Bean Casserole.
All ingredients available at The Country Cupboard except mushrooms.
1 1/4 cups milk (dairy, almond, soy, etc.)
2 T. flour
1 T. cornstarch or arrowroot powder
1 T. oil (vegetable, canola, olive)
3/4 to 1 t. salt
1/8 t. onion powder
Generous pinch garlic powder
1/2 c. canned mushroom pieces, drained
In a small saucepan, whisk together all ingredients except mushrooms until smooth (or process in food processor/blender).
Stir in mushrooms.
Place mixture over medium-low heat and whisk continually until mixture thickens significantly, about 10 minutes.
You are looking for a very thick, condensed cream of soup consistency.
Use in recipe as you usually would.