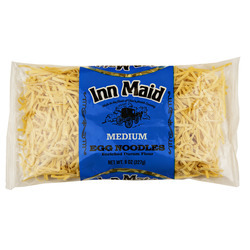 For all of us who sadly missed our
Inn Maid noodles
….cheer up! They're back! If you haven't heard me go on and on about these, I'll spare you except to say they are great! Perfect little things in soups and especially in
Cheesy Noodles
(recipe below).
It's almost been too warm to talk about comfort foods like soup, cappuccinos and beef and noodles. However from what I see people buying, it's soup time whether the weather says so or not.
Sickness season is around the corner, but we're well (haha!) prepared. Stop by and check out our "Wellness Section". You can purchase "Immune Boost in a Bottle" for kids and adults. This essential oil blend is less than $20. Use it every day this winter to help stay well.
Cheesy Noodles
Serves 15-20
As I already mentioned, I love these. They will be a great addition to your Thanksgiving dinner.
1 lb. Inn Maid (egg) noodles*
½ c. butter*
Slightly less than 1 lb. Velveeta cheese
1 can cream of chicken soup
½ can cream of celery soup
3 ½ c. milk
onion powder to taste*
salt and pepper to taste*
*Ingredients available at The Country Cupboard
Cook noodles according to package. Melt butter and cheese in a large saucepan, then add remaining ingredients. Add cooked noodles to pan and mix well. If  serving immediately, reduce milk to 1 cup as it gets thicker as it sits.