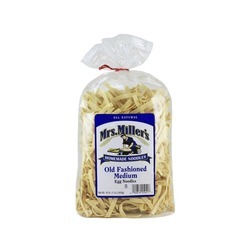 End-of-Summer Noodle Sale: This week, stop in and see our Mrs. Miller's Homemade Noodles. Then save 75¢ on a bag (normally $3.19- now $2.44). Choose from Medium, Kluski, Medium Fine and Fine.
And this is the last of our End-of-Summer sales. Sights and smells and tastes of Autumn have arrived! It's Candy Corn and peanut time, along with Pumpkin Spice Cappuccino and Caramel Apple Dip. Stop in and see what we're tasting for Fall.
And school is, for sure, back in swing. With that, the colds and sniffles have arrived. Help your kids stay healthier with healthier food choices. Learn more at 1-2-3 A Start to Healthier Eating for Kids – a class offered here later this month. This is a special, requested class. Unfortunately if we don't have enough interest, we will cancel this class. So check out the details below and if interested, please sign up!
Donut Forget –  Donut Day – this Saturday!
You won't want to miss our annual delicious, fresh homemade 59¢ donuts. Our flavors this year are: Pumpkin, Chocolate Chip, Glazed, Salted Caramel, Allergy Free Pumpkin (egg, gluten, dairy and nut free).
Sample Sweet Potato or Black Bean Tortilla chips, The Country Cupboard's special salsas and flavored cider. Save $1 on coffee, chips, and salsa. Buy special flavored cider by the cup along with your donut.
Deli Item Sale – Save at least $1.30/lb.
Provolone $4.29
Marble $4.29
Muenster $3.99
German Bologna $2.99
Kettle Fried Chicken $5.49
Off the Bone Ham $3.99
Caramel Apple Baked Donuts
Makes 12-14. Time: 16 minutes.
In honor of Donut Day. Unfortunately, we are not serving these this year – you will need to make your own. You may borrow my donuts pans – just not this weekend – they will be used and used and used again.
Donut batter:
2 cup Flour
3/4 cup Sugar
1 1/2 tsp
Baking Powder
1/4 tsp
Nutmeg
1/4 tsp
Cinnamon
1/2 tsp Salt
3/4 cup Buttermilk or (3/4 cup Milk + 1/4 tsp Lemon juice or White Vinegar)*
2 beaten Eggs
2 tbsp melted Butter
3/4 cup shredded Apples*
*While most ingredients are available at The Country Cupboard these are NOT.
1. Add lemon juice to milk (buttermilk substitute) if needed.
2. Preheat oven to 425. Grease Donut pan.
3. Combine flour, sugar, baking powder, nutmeg, cinnamon and salt in large bowl. Add buttermilk, eggs and butter. Stir just until well mixed. Fold in shredded apples. Fill each ring about 2/3 but make sure it doesn't top center hole. Bake about 8 minutes, until tops rebound when pressed. Leave donut in pan for about 5 minutes. Remove from pan and set on cooling rack.
4. Unwrap caramels and place in small sauce pan. Add milk and heat over low heat stirring frequently until melted. Allow to cool until warm. Dip cooled donuts in caramel and place on rack. Sprinkle top with chopped nuts. Wait for glaze to set.
A Peek in the Pantry
Classes at The Country Cupboard
Digest good information and good food. You must preregister. Stop in, email or call to sign up. Space is limited.
*Using Oils Daily (for doTERRA oil users only)
A free class on incorporating essential oils into everyday life for health, wellness and cooking.
Thursday, September 8th 6:30-7:30
*1-2-3 A Start to Healthier Eating for Kids
Busy moms + 3 small changes = a strong, healthier family. Focus on simple changes for your meal plans that your kids will love and you will too! Go home with not only recipes but also grocery lists dos and don'ts. There is a $5 fee for this class.
Tuesday, September 20th 7-8 pm