I haven't met anyone who doesn't like pizza, have you? Maybe it's cheese only for the kids, veggies or meat lovers for adults. Grab one at the gas station, order one out, or make your own.
Make my own pizza? No way! That sounds like too much work to make my own crust. Actually, have you tried it? Making your own pizza is really easy. Let's start with the pizza crust recipe below. Spread on Chunky Italian Pizza Sauce. Then sprinkle the crust with Pizza Topping. It's made up of onion, marjoram, red and green bell peppers, oregano, thyme, parsley, fennel, garlic, chives and celery. (pictured on the right)
What about more toppings? We now carry Pepperoni (in the refrigerated section), and Uncured Ham in the deli. (This ham doesn't have nitrites or nitrates or preservatives). Here's the part I get excited about:  pick your favorite cheese from the deli. Buy in a chunk and shred it for your pizza. If you love Habanero Jalapeno by the slice, you'll really love it on your pizza.
If you prefer your pizza as a dip, scrap the crust and mix everything else together. Eat it with Garlic Bagel Chips. YUM!
All items in bold are NEW ITEMS here at The Country Cupboard. Stop by and look for the "New Item" sign.
Super Quick Pizza Dough
All ingredients available at The Country Cupboard
2 ¼ tsp. yeast
1 c. warm water
1 tsp. salt
1 tsp. sugar
2 Tbsp. oil
2 ½ c. flour
Dissolve yeast in water. Add salt, sugar, oil and mix together. Slowly stir in flour until blended; form into a ball. Let dough rest 5 to 10 minutes. Pat dough into greased pizza or jelly roll pan. Top with toppings. Bake at 450° for 15-20 minutes. Serves 4 to 6.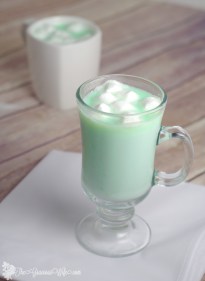 I'm a fan of white hot chocolate. I'm also a fan of those Shamrock Shakes you can get at McDonald's this time of year. Here's a combination of them.
All ingredients available at The Country Cupboard except milk and half & half.
2 cups milk
2 cups half & half
3/4 c. white chocolate chips
1 teaspoon peppermint extract or 1 drop of essential oil (internal use only)
¼ teaspoon vanilla extract
Optional: A few drops of food coloring
Marshmallows for topping
In a large pot, add milk and half-and-half, and heat over medium heat until steam-y but not boiling. Stir in the white chocolate chips. Continue stirring until chocolate is completely melted and the mixture is creamy. Stir in food coloring and extracts. Stir until smooth. Serve warm.