Want to be sweet over the holiday weekend?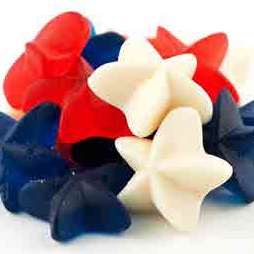 Celebrate Labor Day, the start of school and the end of summer in style with the sweet treats pictured above (gummi bears, gummi stars and patriotic pretzels). Need a delicious pasta salad or tasty dip for your picnic? Try our spinach dip mix, ranch dip mix or Amish macaroni salad mix. Stop by our deli for our fresh, Country Cupboard original macaroni salad. This is the last week it will be available this season.
Lunch Ease
With the start of school, packed lunches start. Stop by our deli for easy sandwich options. Grab a package of sandwich buns (plain, whole grain or Italian parmesan) and lunch is ready. For a lunch twist, request to have your meat or cheese cut into sticks, add some garlic pita chips and you have a happy full child.
Back 2 School Deals – Pretzels and Crackers – Final Week, Hurry In

This week save on pretzels (rings, balls, cinnamon graham, alphabet, mini, chocolate graham, peanut butter pocket, butter-braided, or oat bran), animal crackers, and cheesy duck-shaped crackers. Save 35% percent on any bag purchased!! It's a great time to stock the pantry.
 
Lentil Porridge – 3-4 servings
I had this recently and was pleasantly surprised at how delicious it was. Try it for yourself!
All ingredients available at The Country Cupboard
1/4 cup lentils
1 cup old fashioned oats
1/4 tsp. cinnamon
pinch salt
1/3 cup raisins or other dried fruit (optional)
milk and brown sugar or maple syrup, for serving
In a medium saucepan, cover the lentils with 1/2 cup water and bring to a simmer; cook for 5 minutes. Add the oats, cinnamon, salt and another 2 cups water; bring to a boil and cook for 5-7 minutes, stirring often, until the oats and lentils are tender and any excess moisture has been absorbed. Stir in the raisins and remove from heat. Let sit for 2-3 minutes, then serve hot. Sprinkle or drizzle with brown sugar or maple syrup and milk.