Sugar and…Salt
As promised from last week:  Organic Coconut Palm Sugar is a rich, unrefined brown sugar with a deep caramel flavor. It is also a healthy alternative to high fructose sweeteners and processed cane sugars. Organic Coconut Palm sugar adds flavor to baking and is wonderful sprinkled over oatmeal and in smoothies. Substitute it cup for cup for sugar.
What is so special about Himalayan Pink Salt? Plenty! It's richer in a variety of naturally occurring, non-additive nutrients and trace minerals than your average refined table salt. That's what gives it that distinctive pink coloration. These minerals are important to the body in a number of ways, from helping normalize blood pressure to helping the body absorb nutrients and eliminate toxins.
Little Scoops of News
Our gluten-free section grew bigger this week. We added a few new items:  guar gum, psyllium husk powder, double chocolate brownie cookies, snickerdoodle cookies, and seasoned tortilla chips. Also by request, the So Delicious frozen treats (dairy-free) and kale chips arrived. We only have a limited supply, so stop by soon.
Celebrate the 4th with some ideas from The Country Cupboard
: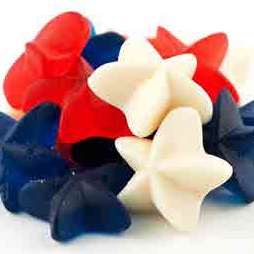 Broccoli Cauliflower Pepita Salad
3 cups coarsely diced broccoli
3 cups coarsely diced cauliflower
1 red bell pepper, diced
1/2 cup diced onion
1/2 cup shelled roasted pumpkin seeds (pepitas)
1/2 cup light mayonnaise
1/2 cup plain nonfat Greek yogurt
2 tablespoons red wine vinegar
2 tablespoons coconut palm sugar
1 teaspoon Dijon mustard
1/2 teaspoon salt (use Himalayan pink salt if you wish)
(Find roasted pumpkin seeds (pepitas) and coconut palm sugar at The Country Cupboard)
Mix broccoli, cauliflower, red bell pepper, onion, and pumpkin seeds in a large bowl. Whisk mayonnaise, yogurt, red wine vinegar, palm sugar, Dijon mustard, and salt together in a separate bowl; drizzle over the broccoli mixture and toss to coat. Cover bowl with plastic wrap and refrigerate 1 to 2 hours before serving